Breakfast Club – 7.50-8.20 am
A free Breakfast Club is held in the Dining Hall between 7.50-8.20 am.  Pupils have the opportunity to choose from cereal, toast, fruit, and yoghurts.
Mid-morning Break – 10.50-11.05 am
Pupils are able to buy snacks in the Dining Hall at their mid-morning break at 10.50-11.05 am.  A choice of bacon/sausage buns, fruit, yoghurt,flapjacks is available.
Lunchtime Arrangements
Lunch 1 (Years 7, 8 and 11) – 12.05 – 12.35 pm
Lunch 2 (Years 9, 10, 12 and 13) – 13.05 – 13.35 pm

Lunchtime at a big Secondary school can sometimes be a bit daunting for some Year 7 pupils coming from a small primary school. However, lunch times at Trinity Catholic College are very well organised with a large number of staff (including teaching and senior staff) being on duty throughout. We ensure that each year group takes it in turns to be 'first in' by having a rota system in place. The remaining year groups are allowed in to lunch at intervals under the supervision of staff. Children who have packed lunches are also allowed into the dining area under supervision.
We are very fortunate at Trinity Catholic College to have both the kitchen staff and the facilities to provide an excellent choice of lunches. The standard of food is very high with the school being awarded the "Healthy School Eating Gold Award 2016" whilst our Kitchen staff currently hold a 5 star award, the highest possible, for the high quality of their facilities and preparation. We have worked hard in school to offer our pupils a wide choice of appetising food with the emphasis placed on healthy eating. Each day, pupils have a choice of a variety of hot meals, a 'pick n' mix' type salad bar and a sandwich bar which also offers meal deals at a set price.
Sample Menu
Cashless Payment System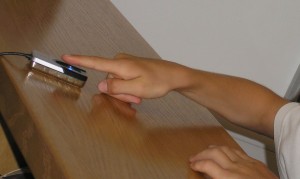 Pupils pay for their meals using our cashless catering system which incorporates the latest biometric fingerprinting technology. We feel that this system has many benefits, including security and privacy.
Every pupil has their own meal account which is accessed via their own finger scan ID.  Money can be credited to the account either by ParentPay or by using one of the cash-loading machines located at various points in the school.
Using the fingerprint scanning equipment, lunchtime staff are able to automatically record the child's choice of meal each day using a touch-screen till terminal, which also displays a photograph of the pupil.