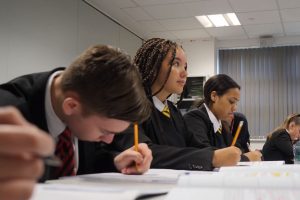 Following National Curriculum requirements, we teach a broad and balanced curriculum and aim to provide an interesting and stimulating educational experience to allow all pupils to fulfil their potential.
Please view our Curriculum Statement here.
Every effort is made to identify each pupil's abilities at the earliest stage possible. At this early stage, it is our aim to ensure that each pupil not only has their work ideally suited to their abilities but also the opportunities to forge ahead and discover their true potential physically, academically, emotionally and socially.
If you have any further questions please do not hesitate to contact Mr S Withers at withers.s@trinity.npcat.org.uk
Key Stage 3
At KS3, pupils study the following subjects: English, Mathematics, Science, RE, PE, History, Geography, Modern Foreign Languages, Computing & ICT , Art, Technology, Music, Drama.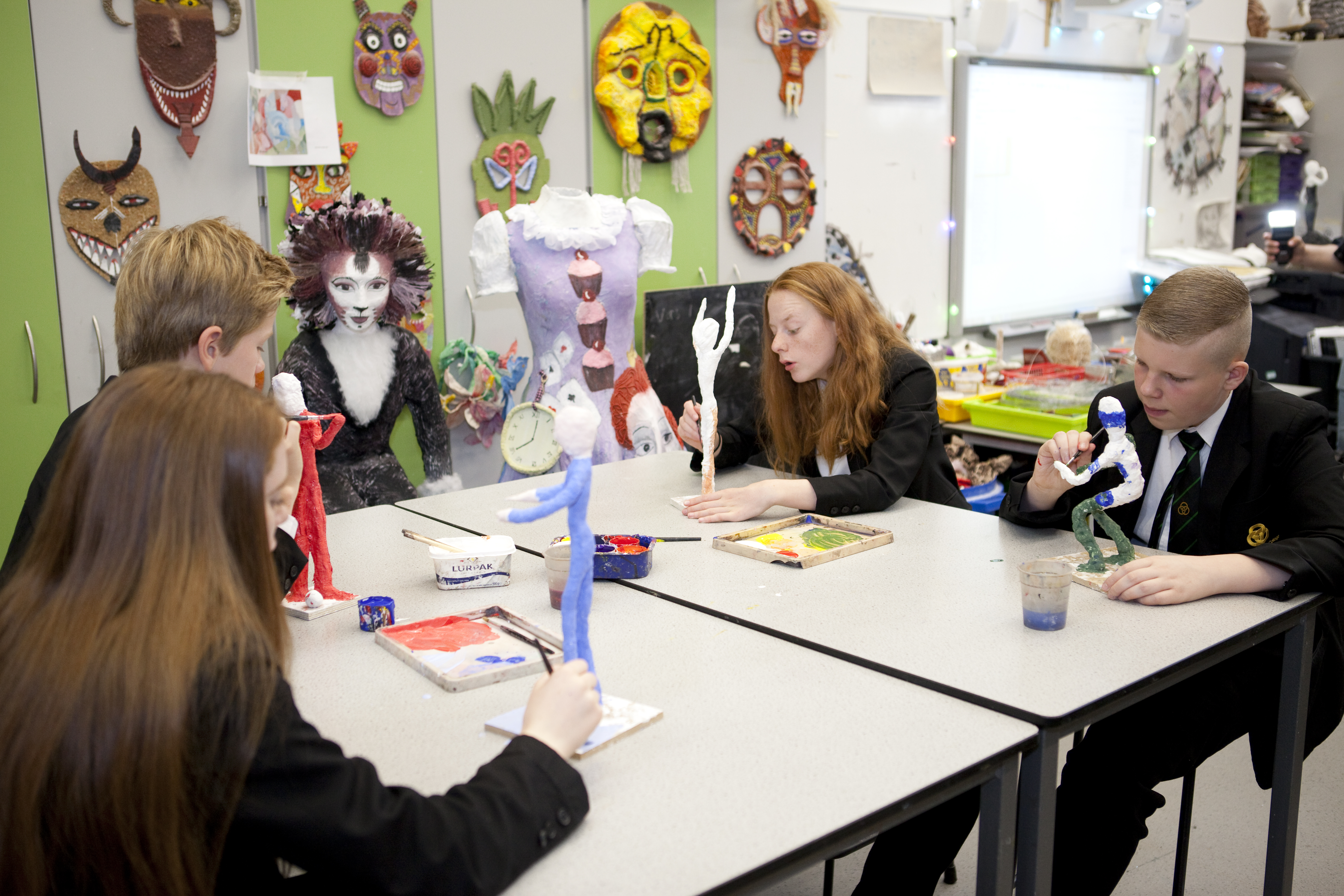 Following a pupil's acceptance of a place at Trinity Catholic College, careful consideration is given when placing them into a Tutor Group. Most subjects are taught in teaching groups with one or two of these groups being specifically for pupils requiring support with additional needs. The remaining groups will be of mixed ability although there may be times when very able pupils are also allocated to a single group.
Assessment
Key Stage 3 Assessment (without National Curriculum levels)
Our assessment system at Trinity Catholic College is aimed at encouraging all students to achieve a sound understanding of what they have been learning before they move on to the next topic or area. We do not set a limit on achievement and believe effort and application combined with excellent teaching and assessment will allow all students to achieve their potential.
Students are placed on 'Individual Flight Paths', which carefully track back from GCSE to the point at which they are currently working.
We will continue to use a range of information from prior attainment/data from KS2, CATs scores, reading tests, baseline assessments within departments as well as qualitative information from our partner primary schools to set appropriate and challenging targets.
As National Curriculum levels are phased out at KS2, we will use the new format of testing to generate estimated GCSE grades. This information will be used to place students into four flight paths. For example:
| | | | |
| --- | --- | --- | --- |
|    KS3 Flight Paths     |    KS2 Levels    |    OLD GCSE  Grades    |    NEW GCSE Grades    |
| Extending | 115-120 | A* / A1 | 9-8 |
| Secure | 105-114 | A2 – B2 | 7-6 |
| Developing | 90-104 | B3 – C3 | 5-4 |
| Foundation | 80-89 | D-G | 3-1 |
These flight paths will not necessarily be set in stone and may be adapted over the academic year; parents will be informed.
Key Stage 4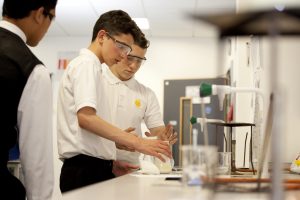 At Key Stage 4 (Years 10 & 11) all pupils study the core subjects together with the subject choices they make from a wide range of options. The core subjects include Religious Education, English (including English Literature), Mathematics, Science, Physical Education and a PSHCCE Guidance Programme. Pupils may choose three subjects from our broad range. An increasing range of vocational subjects is offered at Key Stage 4 including Business Studies, Engineering, IMedia, Travel and Tourism and BTEC Sport.  More detailed information on optional subjects can be found from the individual subject pages.
Key Stage 5
At Trinity Catholic College Sixth Form we expect students to set themselves high standards in their work, their extra-curricular activities and their relationships with others.  We challenge them to do so and support them so that they will achieve. We do this to enable them to make the most of the opportunities offered and to lay the foundation of success and personal development.
Our Sixth Form students at Trinity Catholic College enjoy a wide range of courses, staff who have rigorous expectations and who help young people to achieve them, and rates of progress over several years demonstrate this.  We offer a comprehensive range of A level qualifications as well as vocational qualifications in Engineering, Health & Social Care and Sport & Fitness. Students are encouraged and prepared to apply to demanding courses at universities, including Oxbridge, as well as more directly to the world of work through apprenticeships and training programmes.
In the Sixth Form at Trinity Catholic College each student is in the fortunate position of having a well equipped, modern school and we are determined that Trinity Catholic College Sixth Form will be second to none in the quality of its staff, curriculum, teaching and learning.
We work with students in developing the gifts they possess, whatever they may be, so that they are well prepared to take their place in the adult world confidently.
Further information can be found by searching "gcse and a-level reform' at  www.gov.uk or typing the following address into your search browser; www.gov.uk/government/uploads/system/uploads/attachment_data/file/465873/your_qualification_our_regulation.pdf
Reference: "Your qualification, our regulation – GCSE, AS and A-level reforms in England", Ofqual , 2015