Literacy
Literacy skills' relate to our ability to communicate effectively, in a variety of ways, to a range of audiences. Literacy encompasses the skills of reading, writing, speaking and listening. Students need to have good literacy skills in order to engage with the written word in everyday life. Being able to read and write means being able to keep up with current events, communicate effectively, and understand the issues that shape the world around our students.
Here at Trinity Catholic College we believe that it is vital that we provide our students with the essential literacy skills that will enable them to achieve both academic success and allow them to succeed within their chosen career.  Opportunities for reading, the acquisition of vocabulary and developing good written and oral communication are given daily across all curriculum areas. 
Reading 
'When we teach students to read with precision, rigour and insight, we are truly handing over the key to the kingdom. Of all the subjects we teach reading is the first among all equals.'
Doug Lemov, Reading Reconsidered (2016)
Developing the habit of reading is crucial.  Daily reading of a broad range of complex texts that pupils may not have encountered before is vital to generate enthusiasm and a love for reading.  Reading also increases cultural capital and exposes pupils to the best of what has been thought, said and written.
At Trinity Catholic College, we have 4 core values related to reading. These are:
Reading is a habit. Like all habits, it needs repetition, practice and regularity to establish itself.

Children are given the opportunity to read frequently and aloud. 

Teachers are advocates of reading and read beautifully to children.

Stories are the beating heart of our curriculum. 
We are passionate about our children developing a lifelong love of reading. No child should be too shy to read aloud, no child should fear or dislike reading – all children should read, every day.
In every curriculum area pupils are given the opportunity to read aloud together.  This means at Trinity Catholic College pupils receive daily opportunities to read aloud and together.  Teachers plan opportunities for shared and "close" reading of difficult texts to allow pupils to practice and understand more complex vocabulary.  Pupils are expected to read out loud using the "Control the Game" technique (Doug Lemov).  We have chosen this particular technique as a system for shared oral reading and the basis for a thriving culture of reading in every classroom. Using this technique means our pupils are exposed to carefully planned daily reading whereby our teachers can systematically build pupils' fluency, text comprehension and love of reading. 
At Trinity we recognise that good reading is the only route to success at school. For those pupils who have fallen behind with reading we provide additional support and extra practice to enable them to keep up. This is in line with the NPCAT "Reading Revolution".
Pupils who have difficulty with decoding and/or language comprehension will complete either the Mature Reading Instruction Programme, Lexonik Programme or Reciprocal Reading Programme based on their specific reading need. Pupils receive daily reading practice delivered by a team of trained teaching assistants.
Please follow the link to view our Trusts Reading Revolution document
Ravenous Readers
We want all students and staff to be passionate about and love reading. Our friendly Librarian, Ms Dickinson, manages our wonderfully stocked Learning Resource Centre (LRC) with the newest titles and old favourites which pupils can take home to read in their own time.  Our English Department are passionate about reading for pleasure and run a weekly "Ravenous Readers" Club….  
Ravenous Readers is a group that has been set up to raise reading attainment across the school. This is a club for students to gather in the LRC, share refreshments and discuss books in a topical way. Students can read independently, with friends or staff and even be read to, should they wish. Our Librarian is also playing an active part in Ravenous Readers, sourcing the latest titles and those relating to popular choices on the reading lists. Our reading lists for the club are specialised so they link thematically with those on the curriculum but offer an alternative direction to engage students with additional texts. There are prizes to be won for the top book reviews and these include a Kindle E-reader and book vouchers.
Reading List Rationale: 
At Trinity Catholic College, we believe that reading often, and for pleasure, is a crucial tool for a well-rounded student. Our students should be exposed to the best that has ever been said; exposed to the best that has been written and learn a love of investigating that which is still to be composed. We are incredibly passionate about ensuring that our students have access to a wide range of texts covering: classic literature, teen fiction, non fiction writing, plays and poetry. As we are an all inclusive school, we deem it imperative to provide our students with access to literature from around the world; every child at Trinity must feel like there is a book for them, therefore our reading lists are diverse, span many cultures and are age appropriate. Explore Afghanistan with Khalid Hosseini and the wonderfully inspiring Malala Yousafzal; go back in time with Dickens; traverse the curious world created by Malorie Blackman, or explore the glorious mind of Christopher Boone. At Trinity, there is a book for everyone.
Turn on the Subtitles
The Turn on the Subtitles campaign has collected evidence from world leading researchers to demonstrate the benefits of Same Language Subtitles (SLS) for increasing literacy rates as well as reading, media access and language acquisition. 
Same Language Subtitling is the idea of using subtitles or captions when playing videos or listening to audio in the same language as the video/audio. There is strong and growing evidence that SLS improves reading skills. More than 100 studies show that captioning improves the following areas of learning;
Comprehension

Memory

Attention

Recalling facts

Drawing inferences

Defining words

Identifying Emotions

Vocabulary

Decoding skills
At Trinity Catholic College, all teachers use SLS in their lessons across all subject areas.  Our teachers ensure that available captions are presented when they are showing clips or using audio in lessons.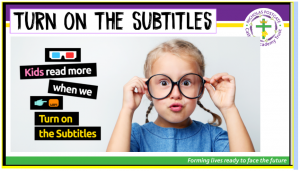 Vocabulary Instruction 
We know that ultimately, all learning in schools comes back to vocabulary knowledge.  We believe that the explicit teaching of vocabulary can enrich knowledge and understanding in a range of subject domains. Research shows:
There is a strong reciprocal relationship between word knowledge and reading comprehension (National Reading Panel, 2000; Biemiller, 2003).

Children who read more will come across a greater number of words. As a result they get more practice at decoding words and have greater opportunities to enhance their knowledge of morphology and spelling than less avid readers (Cain and Oakhill, 2011).

Learning new words is a cumulative task that takes place gradually over time (Nagy and Scott, 2000).
Closing the Vocabulary Gap
"Children who are read to daily have a million more words than those who aren't by the time they get to school" 'When Children are Not Read to at Home: The Million Word Gap', Logan et al 2019
At Trinity Catholic College, we believe that teaching our students the meaning of new and complex vocabulary in every lesson is essential to closing what is termed the Vocabulary Gap. 
Becker (1977) identified poor vocabulary knowledge as the primary cause of academic underperformance of disadvantaged students. A principal cause of this was a decline in reading comprehension from the age of 8. This meant that pupils who experienced a decline in reading comprehension had a lack of vocabulary knowledge which made it harder for them to access and understand the meaning of what they were reading. 
Pupils' acquisition and command of vocabulary are key to their learning and progress across the whole curriculum.  Therefore our teachers develop vocabulary actively in their lessons by building systematically on pupils' current knowledge.  They do this by reading harder texts, "close reading" texts rigorously and intentionally and teaching pupils how to read texts in their curriculum context. These activities enable pupils to increase their store of words in general.
Tier 2 and Tier 3 Vocabulary
Explicit teaching of academic vocabulary in every subject area enhances students' awareness and understanding of academic language in schools. At Trinity we focus on teaching Tier 2 and Tier 3 vocabulary explicitly in all lessons  – daily – in every subject area, focusing on a limited number of words.   
Pupils are challenged to know more of these words and to remember the meaning of these words over time. Teachers check this regularly throughout the year using quizzes, recall tasks and "demonstrate tasks" in their lessons.