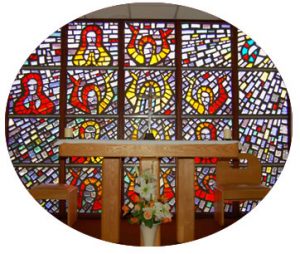 The sight of our College Chapel at the entrance to the main building is a daily reminder of our core purpose as a Catholic foundation. So, at Trinity Catholic College, we seek to offer an educational environment which draws on Catholic teaching and spirituality. Central to this, as you know, is the availability of a Trust Chaplain, appointed to serve all of our students and staff.
But what does she actually do to serve the community here? Well, her remit of care and responsibility extends to all students. She is also accessible for advice and guidance, when the need arises, to staff and parents; and, in every case, she does this regardless of their religious affiliation. The Chaplain tries to recognise different levels of spiritual awareness in an individual and then she helps them to develop and to grow closer in their friendship with God – Father, Son and Holy Spirit. Indeed, the importance of immediate and internal support and pastoral counselling, especially at times of crisis or bereavement, is an aspect of concern that the Chaplain places among her priorities of pastoral care. If you suffer bereavement or if you are ill, she will endeavour to visit families at home so that they know that the College cares for their well-being and health.
The Chaplain tries to encourage and build a common life here, founded on Catholic religious belief and worship, which has its focal point in the College's celebration of Holy Mass, and other special celebrations. Our local Parish Priests come into College to offer Holy Mass with us and they are available for Confessions at least once every term.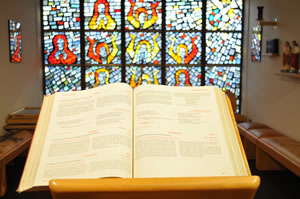 It is the Chaplain's intention to provide opportunities and direction for students at a time in their development when they are most in need of good advice and sound guidance.
The Sacrament of Reconciliation (Confession) has to be one of the best ways to encourage regular self-appraisal, where similar good advice and sound guidance is given to you. This is because it reminds us that we are responsible for our own actions. At the same time, it offers us a way forward, once remorse has been shown and God's forgiveness received. The Chaplain will never tire in encouraging you to go to receive the graces of Holy Mass and Confession!
The Chaplain encourages every student and member of staff to acquire knowledge and awareness of the rich heritage of Christian culture and piety. Festivals, Saints' days through the year, and popular expressions of faith and devotion form an important part of this. Familiarity with such well-known examples of ways of praying, such as the Holy Rosary, Eucharistic Adoration and the Stations of the Cross he also regards as a proper aim to be diligently pursued.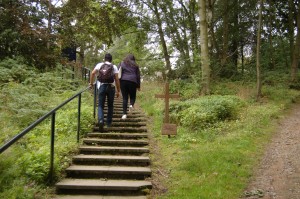 All of this, then, is to aid you and to give you an idea of what it means to live the Christian life as a young adult in an age full of complexities and contradictions. The Chaplain wants us never to forget that our faith allows us to apply absolute values in a world of diminishing respect for the principles of human dignity. The motto of Blessed John Henry Newman that "Heart speaks unto heart" is at the heart of the Chaplain's life and ministry here at Trinity Catholic College.
It is the Chaplain's special responsibility for nurturing and sustaining the religious character of the Trust and College and for maintaining a clear focus on its life as a Catholic community. Her aim is to educate and develop you to your full potential as a mature and thoughtful individual. This is usually described as "education for the whole person" and includes social as well as personal qualities of kindness, good manners and habits of prayer and respect for God and for others. It is a noble as well as a challenging enterprise! It is a spirituality which does not believe that one size fits all and the Chaplain's approach both sums up and identifies the aim of bringing the theory of faith and its active expression, to an individual student who then expresses it within a community of believers.