Positive relationships & personalised support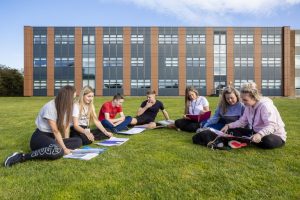 Trinity Sixth Form exists for you. We are a small Sixth Form and a close knit community. We pride ourselves on knowing and understanding the needs of each and every one of our students – we can say with confidence that every student in our care gets personalised, individual support so that you can achieve your full potential during your time with us and beyond.
Result on an upward trend
2019 A Level Results were
A Level VA score -0.05
A Level APS 29.70 (equivalent to an average grade of C)
Students taking A Levels at Trinity Catholic College in 2019 made the most progress in Middlesbrough.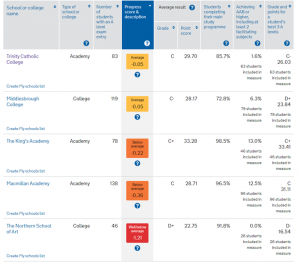 Applied General Value Added Score +0.62
Applied General APS 35.38 (equivalent to an average grade of a distinction.
Students taking vocational subjects at Trinity Catholic College in 2019 made the most progress in Middlesbrough.
Results have improved significantly in all areas since Trinity Sixth Form was established in 2011. We fully intend to build on this going forward and aim to become one of the 'Outstanding' sixth forms in the country. 
Testament to this is the wide range of destinations to which our 'Class of 2019' have progressed. This year, our destinations statistics are:
Studying at university: 86%
Russell Group Universities (Leading 24 UK universities): 18%
A vast proportion of our students go onto further study, whether at university or with other providers. Students opted to study a wide variety of subjects with STEM and health based topics continuing to be popular. We supported students through the UCAS process to apply for subjects as diverse as criminology to business to geography. A variety courses can be chosen from the following fields:
Science, Technology, Maths and Computing
Social Sciences & Business
Communications & Languages
The Arts
Sport & Health
A number of students were accepted into the following Russell Group universities: Newcastle, Durham,  Leeds Liverpool and York.
Students who chose not to go to university went on to study Foundation Degrees or vocational training courses. One student is joining the RAF and two students have been accepted on Access courses for Paramedic Science and Nursing.  
As in previous years, there have been a small number of students who have opted to stay at College for a third year.  All students will apply for UCAS in the 2020 cycle.
Excellent support & facilities
In recent years we have invested in the best facilities to help you learn and develop as an individual:
a

fantastic modern refectory

for you to relax and refuel at breakfast, break and lunch

a

wide range of teaching spaces

suited to the courses you choose – state of the art ICT and media suites and much, much more

a

well equipped learning resource centre

with a range of books/magazines/journals, PCs/printing/photocopying facilities and a silent study area

a

welcoming achievement centre

that is open all day for you to access additional support with your studies

a

peaceful chapel

that is always open for private prayer and silent reflection

a range of

outstanding sports facilities

for you to burn off that excess energy including a fitness suite, all weather pitch and gym/sports hall
A caring Catholic community
Underlying all we do are the words of Jesus: "love one another as I have loved you". All our students are equal in the eyes of God and are, therefore, to be treated with respect and dignity. Trinity Catholic Sixth Form College is special. Our faith is central to all that we do and, as believers in the values and benefits of a Christian community, we offer a warm welcome to Catholics and non-Catholics alike.